I am very thankful for these breeders, and their fantastically bad websites. They offer a fascinating and fun insight into the internet past! Some of you will not even have been born when these websites were launched, and visiting them is like walking into a Retro Museum. They really are fantastic examples of UX and UI craftsmanship from the long ago ages of the 1990's.
We have made this article especially unique list as it brings together 12 sites, from 12 kennels in 12 different countries. I know many of you may think these aren't Dog Breeders but Puppy Mills. Well we want this blog to be nice, while offering some fun feedback. In fact many of the breeders are award winners.
But while they are experts with their dogs, they may be a bit lacking (or more likely 'hate') dealing with techno stuff.
You better avoid these breeder websites
I know many breeders who believe having a website is a one time, one off investment, both in time and money. Boy are they WRONG, as you are going to see from these ugly ugly websites. I am not sure if a bad, cheesy, or confusing website helps a breeders reputation more than it hurts, or if they are better off without one at all? See what you think….
Are you ready, it's gonna get a bit craazy!
#1: Sing Along!
d'Abajomy Kennel – Siberian Husky – Belgium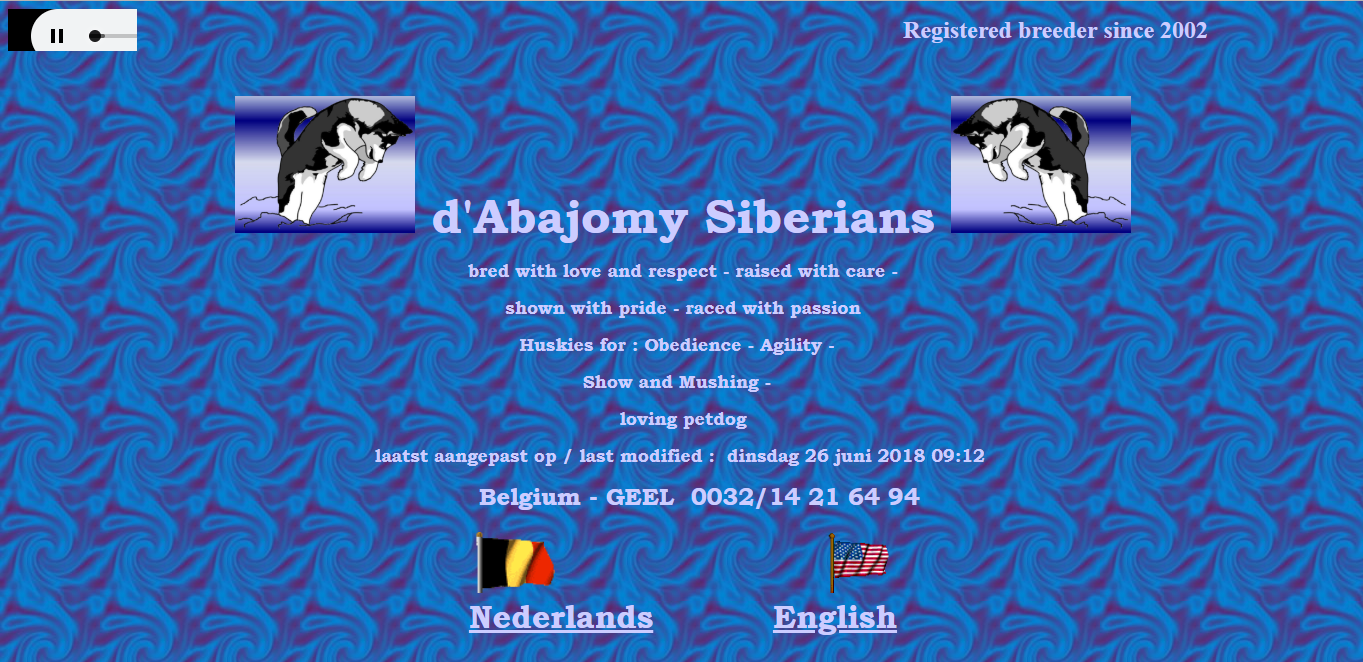 The Eye Catcher – Or in this example from Belgium, the ear catcher! Why oh why put any music on your homepage at all, never mind songs that have nothing to do with dogs. Devices on mute for this site!
Your gonna read it a lot. But the combination of gimmicky moving objects, a backdrop that was outdated when Clinton was President, endless text, and next to no pictures, make it soooo unappealing.
Finally is it really a good idea when promoting your kennel to have a section called PASSED AWAY?
#2: Where endless Butterflies do flutter by
Sunshine Butterfly Kennel – Papillon – Germany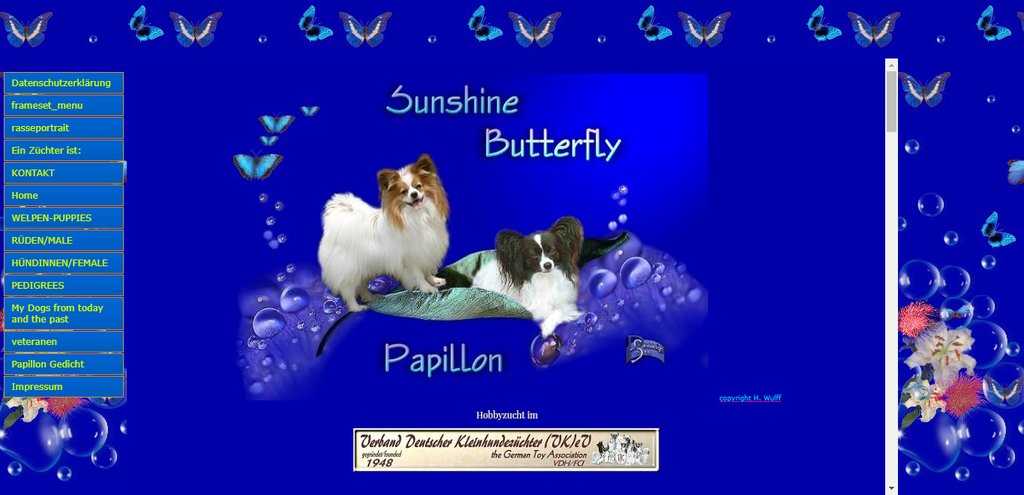 You guessed it! This is a butterfly bonanza. Yes we get it, the Papillon has ears like a butterfly. But sometimes less is more, and dozens of butterflies, some sparkly and fluttering, is overdoing it a bit.
Looking at the site you would guess it was updated 10 years ago, BUT no!!! …
It was just this week… So why still have the chunky text, the cheesy layout, and worst of all, a scroll bar in the middle of the screen!
And don't make it really hard to find the pups! Here you have to search through many tabs before you finally find some pics!
#3: Go Dizzy with Spinning, Twirling, Flying…
Kennel METEJAS – Pekingese – Latvia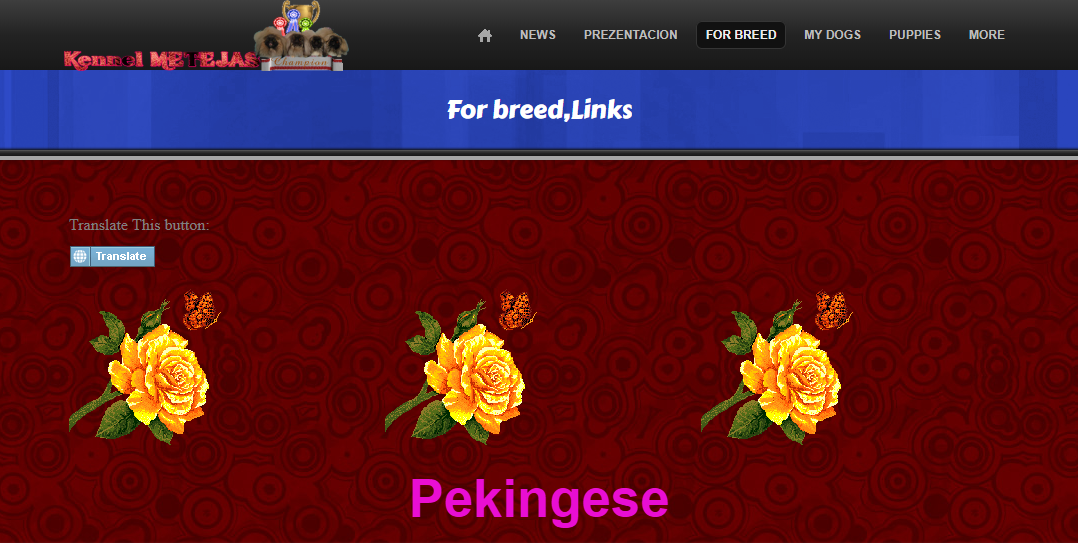 Butterflies again, glittering and fluttering by, and roses too, what the heck has that got to do with the Pekingese! Doggy pics front and centre for me, not glitzy gimmicks.
Then offer a translation into about 100 languages, which looks really impressive, yet every single button leads to a 404! I hope you can read Latvian!
And that visitor box. Really, no one is bothered about them anymore, and when you highest number count for any country is 396 it doesn't help the cause.
#4: Where Pugs Look Scary!
Baskervil Kennel – Pugs / Brussel Griffon – Bulgaria
Argggh. What is this thing about roses and dogs! No one wants to see flowers, or spinning trophies, or a green background that looks like a 1970's carpet.
You're Kidding Me – This site is about Pugs mostly, the cutest of them all, yet there is not a photo in sight until you hunt around! This breeder has fantastic dogs when you do find them. Yet on her photo pages, almost all the pics have gone walkies.
Plus, why link in a random dog blog on one of your main tabs! I found this before I found any of her dogs!
#5: Worlds simply cannot Describe!
Budavári Fekete Kennel – Havanese / Bolognese – Hungary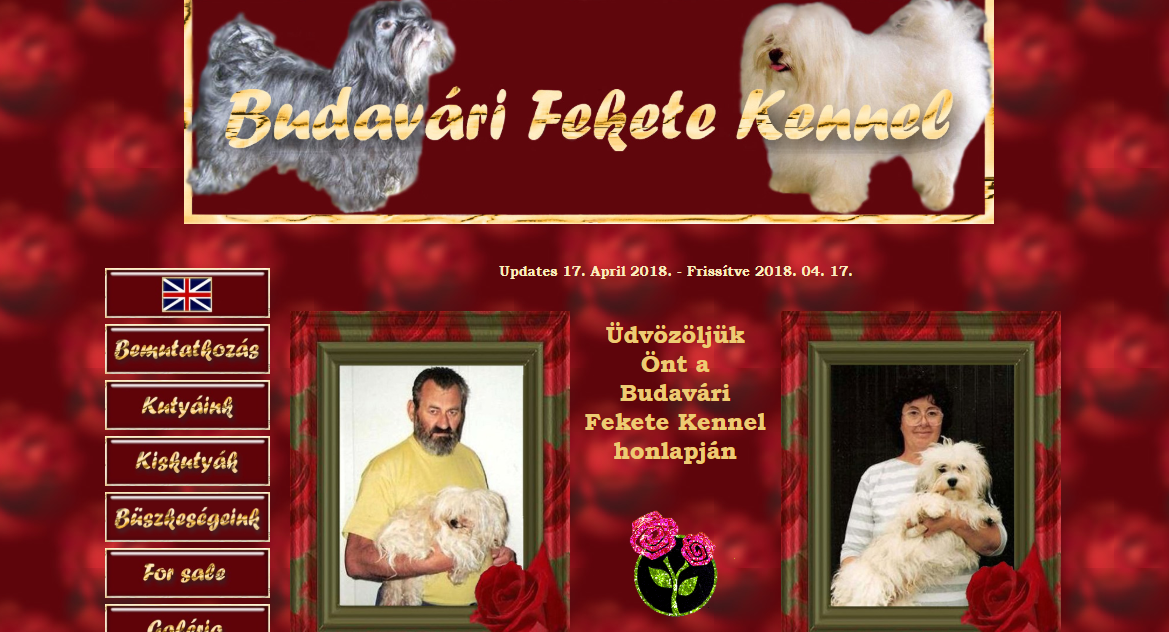 http://www.budavarifekete.fw.hu/
First things first, this couple are well established breeders, with Champion dogs. But seriously, can you make your photos look more terrifying? And again with the old fashioned ROSES!!!!
I don't know about you, but for me this was the most horrendously outdated, and hard to look at, layout on the list. Blood red everywhere! But when you TRY to get past the lousy looks there are some lovely dogs there.
It's Just a Little Thing – Nope there is nothing little here, just big, bold and bad!
#6: Wag That Tail!
Avatar Linc Kennel – Italian Greyhound – Czech Republic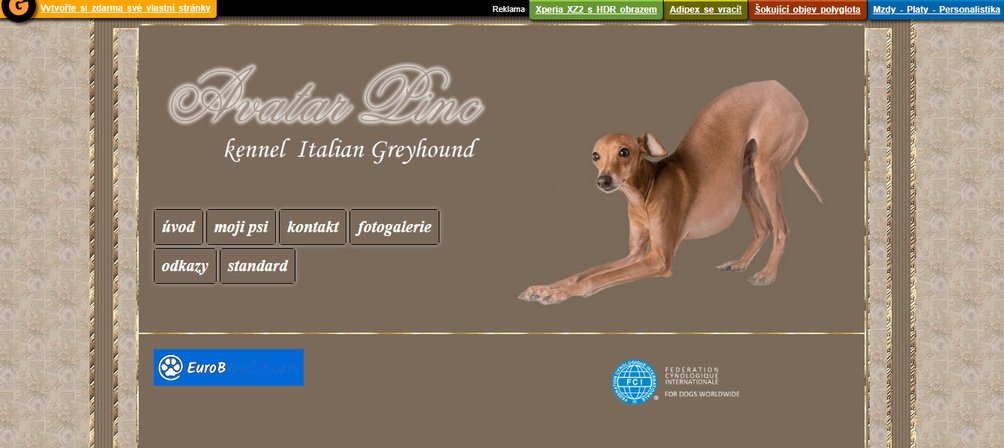 The Eye Catcher – You really can't miss this one. That Greyhound with the ever wagging tail! Do the Czechs like their dogs a little scary?
Please provide me with guesses for the Kennel name, because with that swirly writing I can't even make out the last part! Hard to grow your reputation when the kennel name is a mystery!
And putting tabs right at the top of the homepage, linking adverts for weight loss tablets and hearing aids – a wee bit random! Or is it just me?
#7: List Lovers this is the one for You!
Castro-Castalia Bullmastiffs – Spain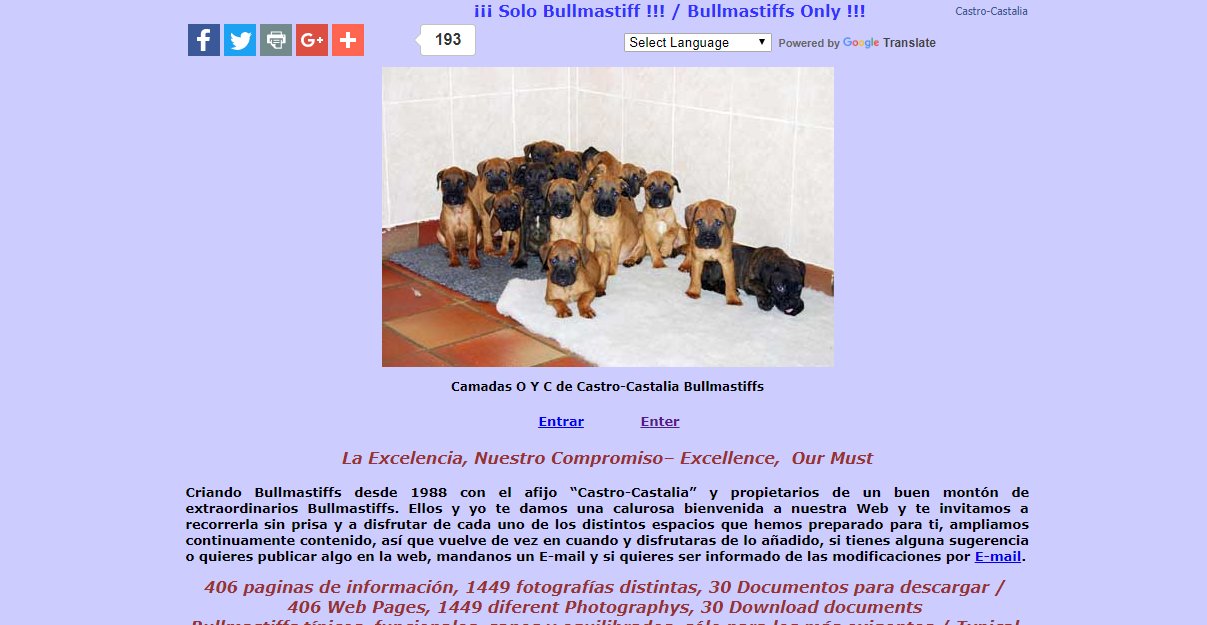 http://www.castro-castalia.com/
The first thing you see from this wordy Spanish Kennel is Bullmastiffs Only !!! . Fair enough, but it's a little bit intimidating.
Start scrolling down, and don't expect to stop anytime soon. I'm not kidding this is a craaazy long list of never ended links, all laid out as a boring chart that will put you to sleep!
I award a bonus point for a site that finally has one pic of their pups at the top of the homepage. There may be a million sentences below it, but it's something!
#8: Lost in Space
SIPOLY Shih-Tzu Kennel – Russia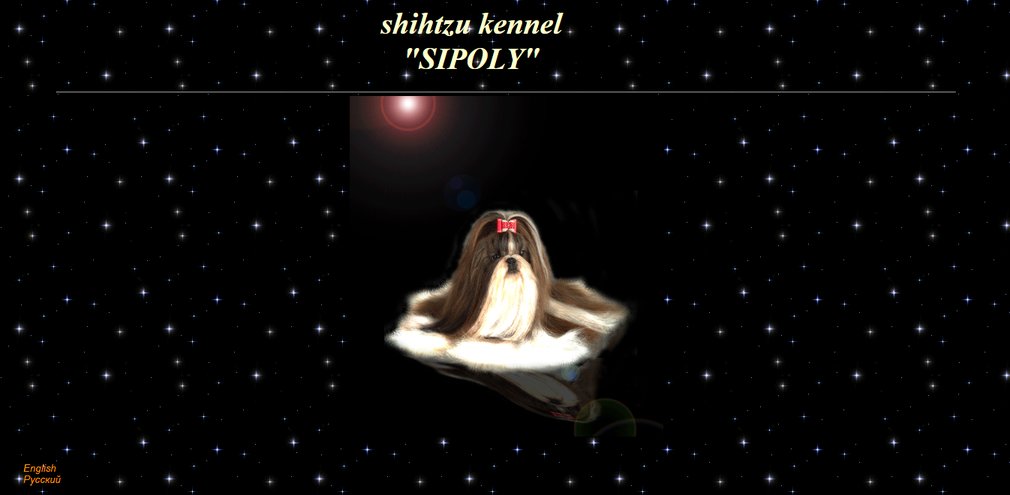 http://sipoly.narod.ru/Index.html
The Eye Catcher – The sky at night, glitzy, glossy, shiny, and just plain ugly.
The one thing people want nowadays is convenience. It should be easy to look around a site. But where the hell do you go next after this homepage! The answer is there, its not big and it's not obvious. See how long it takes you!
When you do finally find the next page, you encounter this , next to several tabs.They are enough to induce an epileptic fit. But when you click on it and the puppy was for sale in 2012, 'New' might need removing!
#9: PAY NOW, Look Later!
Tocute Kennel – Toy Fox – U.S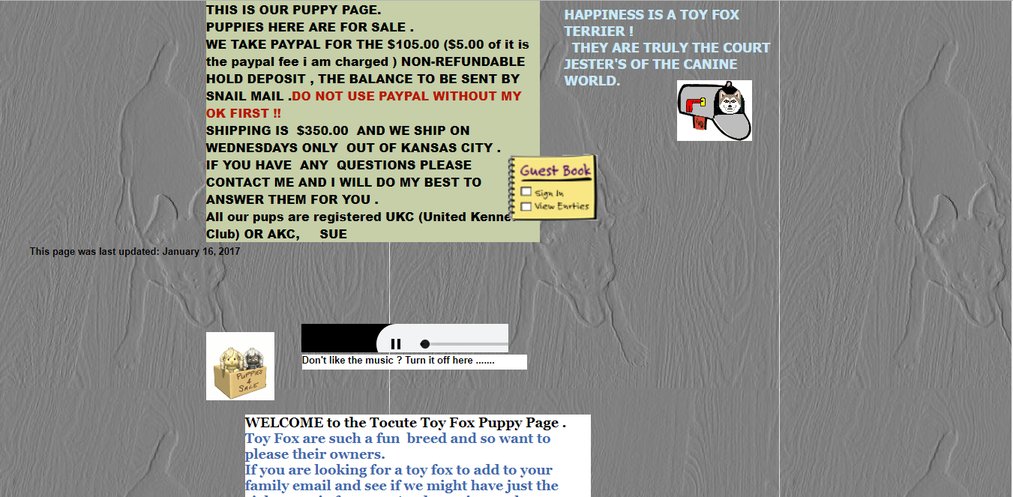 http://chihuahua2love.homestead.com/toyfoxpups.html
Awful music, the ugliest graphics ever, and dreadful text in BLOCK CAPITALS everywhere. Homer Simpson could do better than this!
Once you look around you find out that this is a serious show winning breeder. But seriously do you want the first thing you see on your kennel page to be – A LIST OF DEMANDS FOR WHAT YOU MUST DO WHEN PAYING FOR A PUPPY!
It's Just a Little Thing – Hard to come up with anything little, it's all badly done, but when you have pups as cute as the Toy Fox, why not get a nice pic right there at the top of your homepage?
#10: Nowhere to go!
Naomis Star Kennel – Rottweiler – Bosnia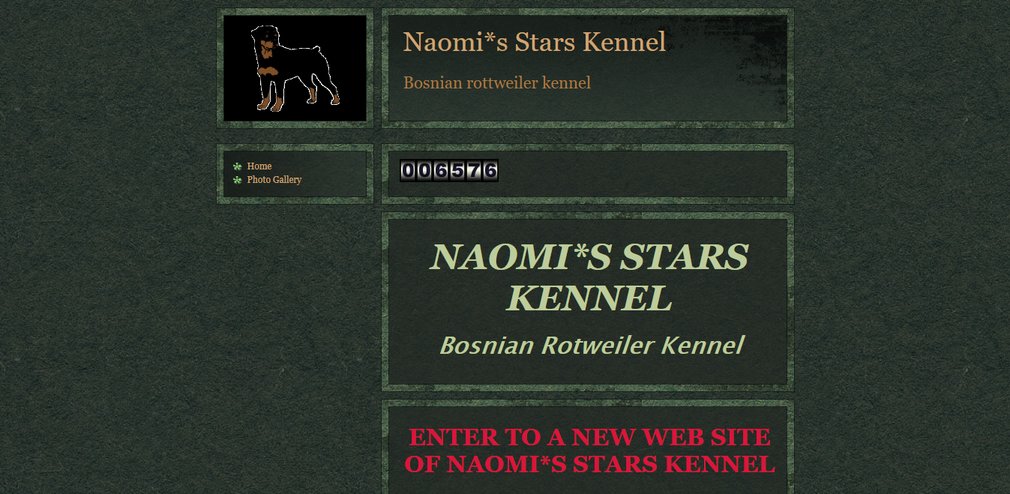 http://www.freewebs.com/naomistars/index.htm
Making your kennels homepage look like a Prison Cell probably isn't going to get a dog lover in a buying mood. Together with the ceaseless, cheesy tail wagging effect, and it is a complete turn off.
Why prominently place big, bold text saying enter the new site, while it leads to nowhere? In fact the only other page to be found contains some lovely Rottweiler puppy photos. Aha pups for sale you might think, nope they are all from TEN YEARS AGO!
It's Just a Little Thing – When you are on the homepage, it probably isn't necessary to have a Button for Home!
#11: Dogs, ducks, horses, beavers, You Name it!
Raitis Kennel – English Cocker and Field Spaniel – Austria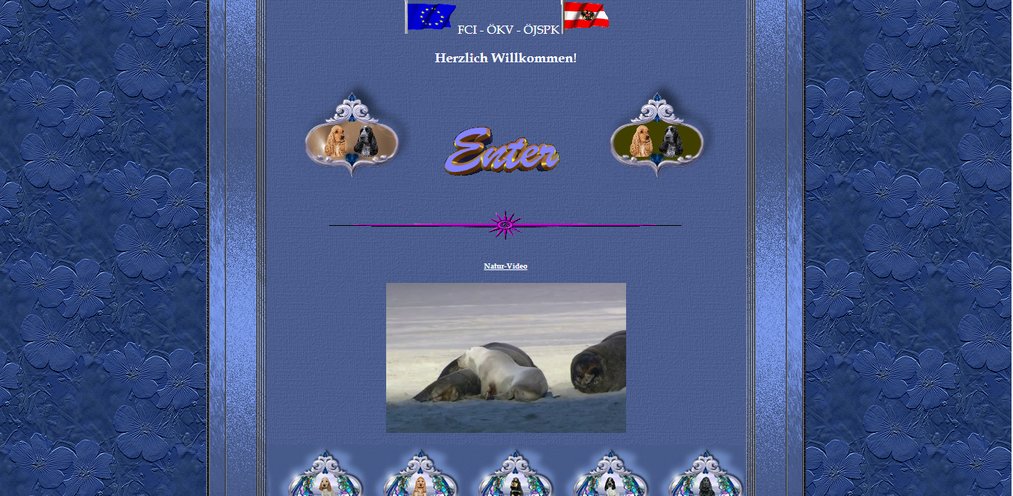 s
On first glance this one aint quite as cheesy as the rest, now scroll down… there you got it! A video of galloping horses, seagulls snoozing, and beavers biting. Who thought that was a good idea?
This site was updated just one week ago, seriously one week! If the breeder is coming back that often, why after all these years still have that terrible 90's layout; get into the 21st Century before it's over!
This site does have the cutest dogs, and there is a page packed with beautiful pups, buts its the awful music that takes full focus. I won't tell you where it is, you have to find it for yourself.
#12: Pawprints in the Snow
Gladly Stones – Hard to say – Finland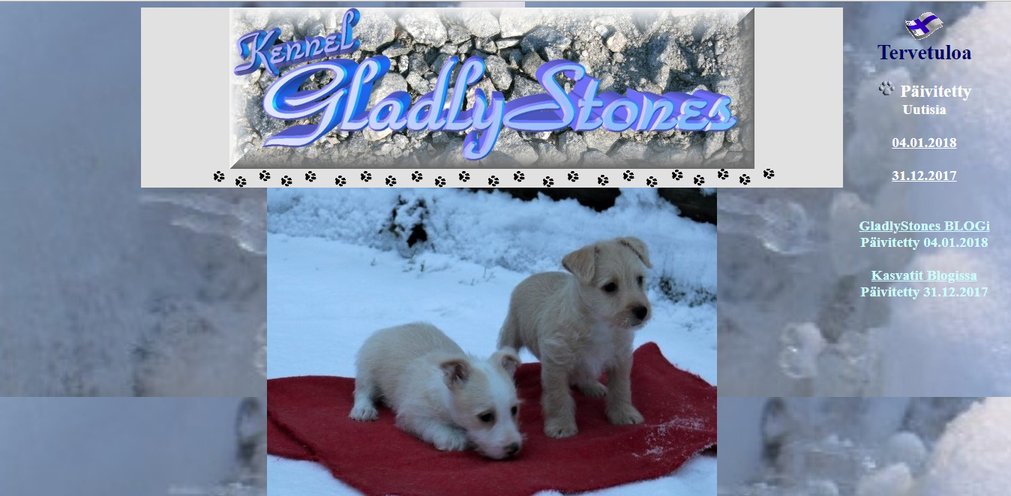 The Eye Catcher – Yes it has to be that disco fever style Hero Text – cheesiness to maximum!
Navigation difficulties! It makes it really hard to enjoy the site when it is so hard to get around. Working out where to go from the homepage is no easy matter!
And finally, come on actually mention the breed name somewhere on the homepage, not everyone is a dog expert! Can you name the breed?
Bonus #13: Dog's on FIRE!
Liebsthal Kennel – Boxers – U.S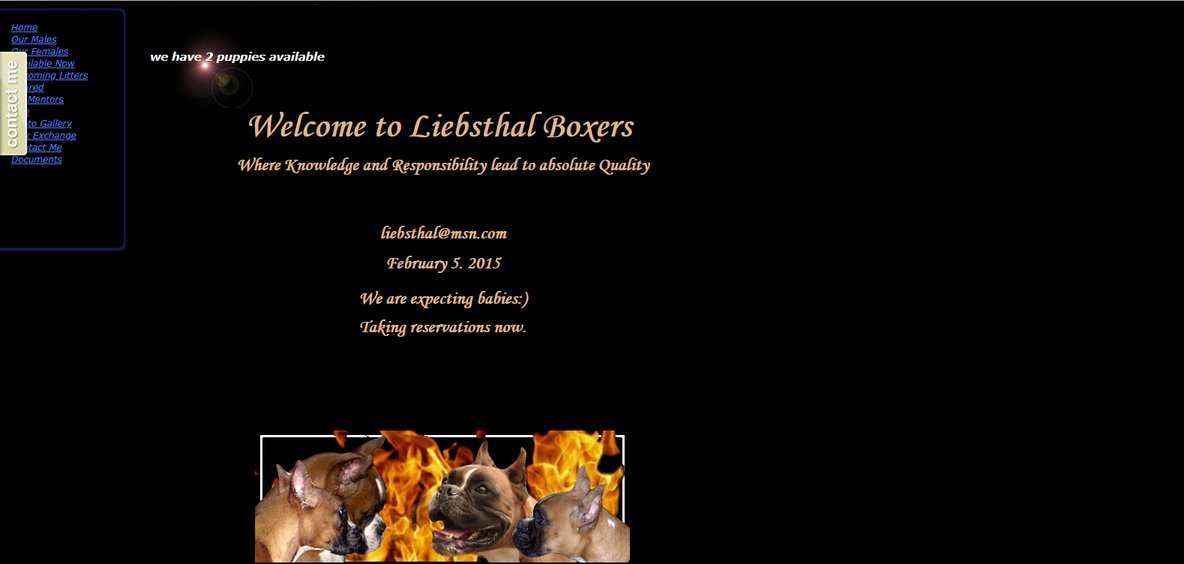 http://www.freewebs.com/liebsthalkennel/
All I have to say about this one – seriously don't combine a picture of dogs with fire! The result is terrifying!
And this site won a Quality Award too!
That's all Folks
I hope you had as much fun looking at these as we had!
Many of these breeders, if you dig deep, are truly fantastic ones. But while they have had great success with dogs, they have failed with technology. Nowadays a reputable breeder MUST be found online. People will search for breeders and find out more about the kennel…
And if you are a registered breeder with no website, or you don't want yours to be the sort that could be listed here :)… don't worry you don't have to! Have a brilliant Breeder site like this Tibetan Mastiff breeder.
Seriously, if you are planning to buy a dog, do your research: choose your dog from a good breeder or adopt, just don't support a puppy mill.
Comments
comments