If you're looking for recipes your dog will love that are super healthy and nutrient-rich you've come to the right place. As you know, there's no shortage of dog food recipes. We looked through literally hundreds of recipes and separated the wheat from the chaff to give you the absolute cream of the crop in one article. Whether you're a new pet parent of a rambunctious puppy paving the way for a healthy future or have a senior dog with special needs, these recipes are nutritious, wholesome and dogs love them. There's no better way to ensure that your dog is getting exactly what he/she needs in their diet than making meals for your dog. But for some the idea of hand making meals is just another thing we don't have enough hours in the day for. That's why when selecting the top 20 recipes we ensured that they were simple enough to make, both in regards to the ingredients and the time and steps to make them. And we've already done the research for you so click through our list of amazing recipes and bookmark your favorites! Remember to keep any dietary restrictions (like food allergies) in mind, and be sure to talk to your vet about the switch to homemade meals and how it could affect your pup.
NOW, ONTO 20 OF OUR FAVORITE HOMEMADE DOG FOOD RECIPES AVAILABLE ONLINE!
1. Balanced homemade dog food
https://www.youtube.com/watch?v=7P85BMCCboI
Honestly, I was amazed how simple and fast it was to make homemade balanced meals for my pups. And I was also pleasantly surprised that I already had most of the ingredients in my pantry, aside from the meat. And I can make the same meal for both of my dogs, feed it to Gina raw and cook and freeze Sanchez's meals.
2. Healthy Chicken Dinner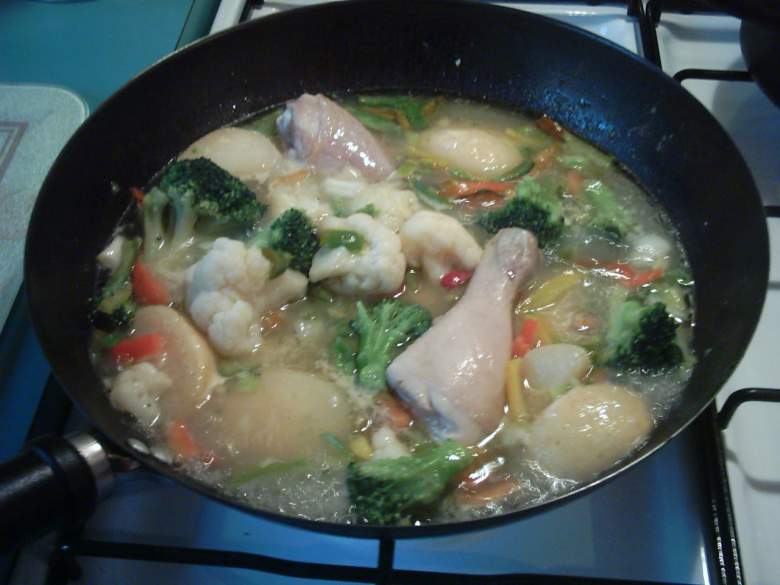 Dogs love chicken, and it can be an easy meat ingredient to use for homemade dog meals. While you can swap out some of the vegetables in this recipes, avoid onions and if you use carrots cook them well. Carrots can be hard for dogs to digest.
3. Yummi vegan dog food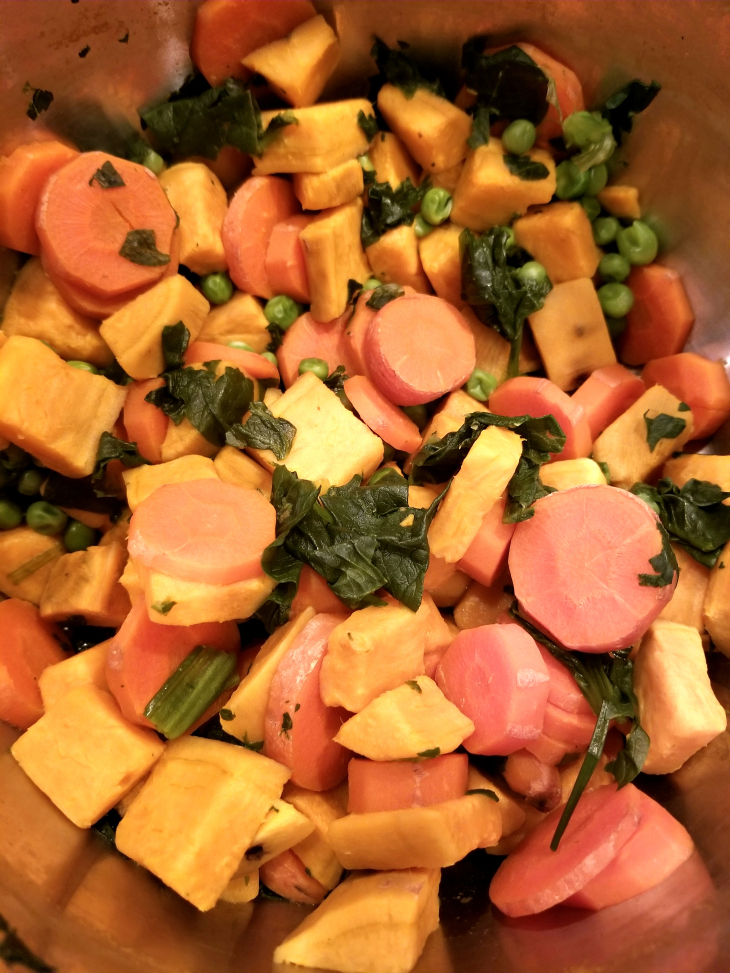 Enough about store bought dog food, let's talk about delicious, nutritious, homemade dog food! Easy to make. I make a small batch for about a week. You can double the recipe and make more, specially if you have a big dog. Instructions are: In a big pot put water to boil. Cut in small pieces ingredients and dump all in pot, that's it. Recipe is also gluten free. Here I show ingredients after boiled and also mashed.
4. Easy Crockpot Chicken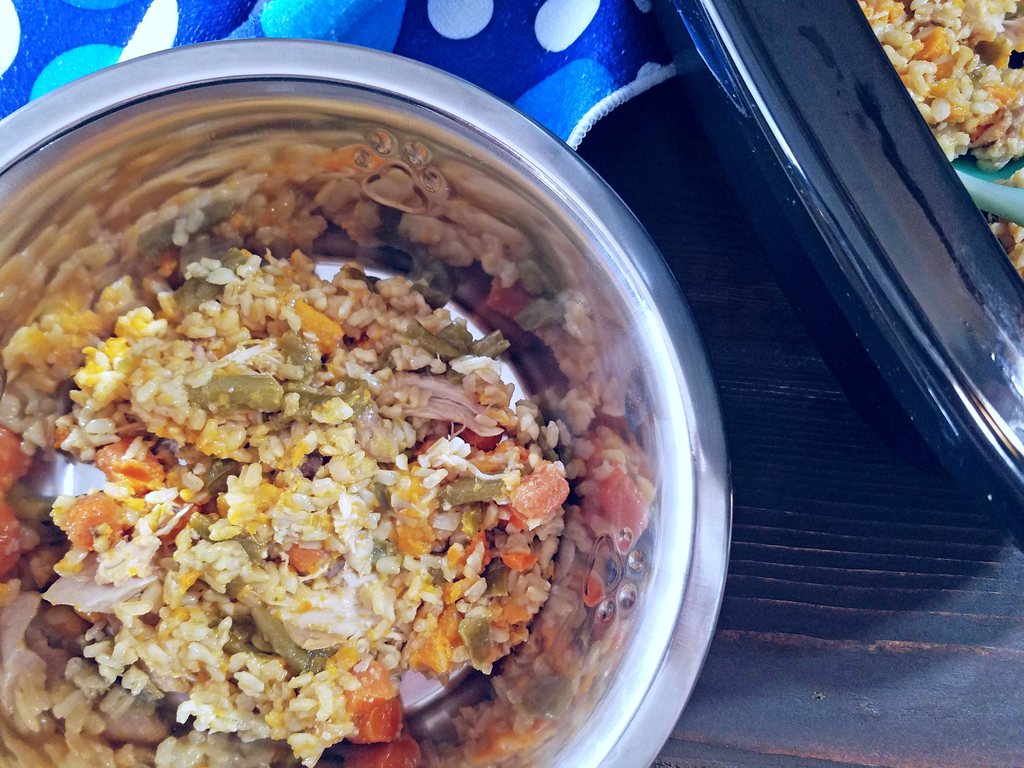 This recipe is full of nutritional value for your pet. Sweet potatoes and green beans are a great source of beta-carotene, minerals, and fiber.  The fiber in this recipe helps your pets feel full with fewer calories but still eat a healthy diet. Because of this, it is a great recipe to manage your pet's weight. The chicken provides the protein your pet needs to stay healthy.
This recipe is enough to feed your dog 1 cup a day for about a week. However, if you have multiple or larger dogs you may want to double to recipe to ensure you have enough to last the week. Check out the video, then print out the recipe card below!
5. Gluten-Free Dog Treats with Pumpkin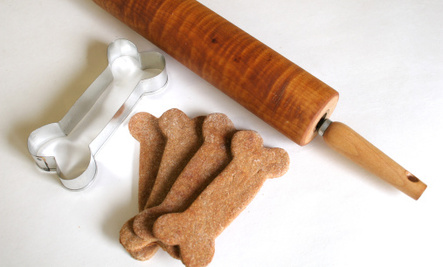 I've written about the health benefits of pumpkins for dogs and cats, including improved digestion, urinary health and even weight loss. Here are some recipes you can make at home for your dogs that include pumpkin, but not gluten. I discovered that Sanchez and Gina are gluten intolerant after seeking holistic veterinary care, so I particularly appreciated that these recipes are gluten free.
Conclusion
So there you have it! Twenty homemade, dog food recipes straight from dog loving owners around the web. We hope you've found a few that speak to you and your pup, and that you're excited to get in the kitchen and start cooking! We can't wait to hear how it goes, and to get your advice on making homemade dog food. In the comments below, be sure to leave tips and tricks, and of course include your own tried-and-true recipes that you've found or come up with yourself. Together, we can make mealtime a lot more pleasurable for our favorite furry friends.
SaveSave
Comments
comments